Web Site Review & Analysis
Website Review and Analysis is the way to convert the visitors into paying clients.
Our website usability and analysis services are developed to improvise and enhance conversion rates of ecommerce, informational, promotional websites, usability and over all experience.
The Web Site Review and Analysis Service is a perfect way for all small and medium sized online businesses with ecommerce or advertising sites that want to improve their internet sales and web leads from their present sites. The service comprises a professional assessment along with a purposed response on seven important sections of website usefulness, website usability, web design, and actionable approvals on progressing entire customer service and web site conversion rate.
Our Website Review and Analysis service focuses on the following: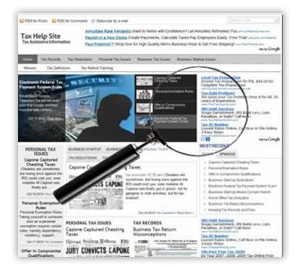 Homepage color theme analysis
Analysis of your website's graphics and its relevance to your marketing position
Site Map analysis and ease of navigation analysis
Search Engine visibility and ranking
Sub-page navigation and cross-selling analysis
Analysis of forms and methods
Overall website structure analysis
The website reviews are done by our well knowledgeable usability and web design professionals who are experts in conversion analysis, website usability and website design. When you get started we take the following are the steps:
 Primary assessment of of site and needs via the phone
 In depth website review and analysis
Provide detailed report on site accessment.
 Review and explain report by phone
 This process requires approx. 15 business days.
Here is what we do for you:
The Web Site Review and Analysis service is designed for businesses and organizations that want to improve the effectiveness of their web sites online.
Lynx Digital evaluates the client's web site and provides objective feedback on key areas of web design, web site usability and web site effectiveness, along with actionable recommendations on how to improve the user experience, web site conversion rate and return on investment (ROI). We will analyze your site's marketability through factors like user-friendliness, effectivity in terms of persuading visitors to buy your products or services, and most importantly, through a keyword analysis of your site's content.
Our site review includes an evaluation of your site's functionality, design, content, and use of technologies.
Functionality:
Accessibility; html validity; download and interaction speeds; navigation & links; interactive processes; presence and descriptive quality of page titles and additional SEO features.
Design:
Aesthetics, ease of use, layout, navigation and congruence of elements.
Content:
Your site content has the ability to convert the visitors into customers. Clarity and potency of message delivery on each page and overall site; overall brand presentation; information architecture; steps to destination, clarity of verbal expression, readability; absence of mistakes, outdated pages, repetition, process failures, and un-requested intrusions; multi-sensory appeal and impact; accessibility of information such as content rating systems, search facility, site map. We emphasize on broken links, keywords for sound content analysis. Including relevant keywords your site copy is a basic part of SEO.
Technologies:
Effective use of leading edge technologies such as Java, JavaScript, html, DHTML, active X, advanced coding, XML, CSS, compression technologies, Flash; audio & video broadcast; social media; use of interactive maps & other active media; database integration & functionality; active server & dynamically generated pages; e-commerce solutions; secure servers.